Still sadened, I ordered two more white dolls before they were gone for good knowing I needed to get a few more dyed.
My plans were to have a blue one, a green one, a purple one and maybe one other colour.
So as it turned out, my first two (who were meant to be blue and green) came and were dyed, ended up blue and... teal?
Pretty colour, but not what I was expecting. I knew i'd be sad if I couldn't get a purple one too, and still wanted a green damnit, so two more were ordered and arrived.
well... clearly green dye hates me because try as I might, things didn't go to plan.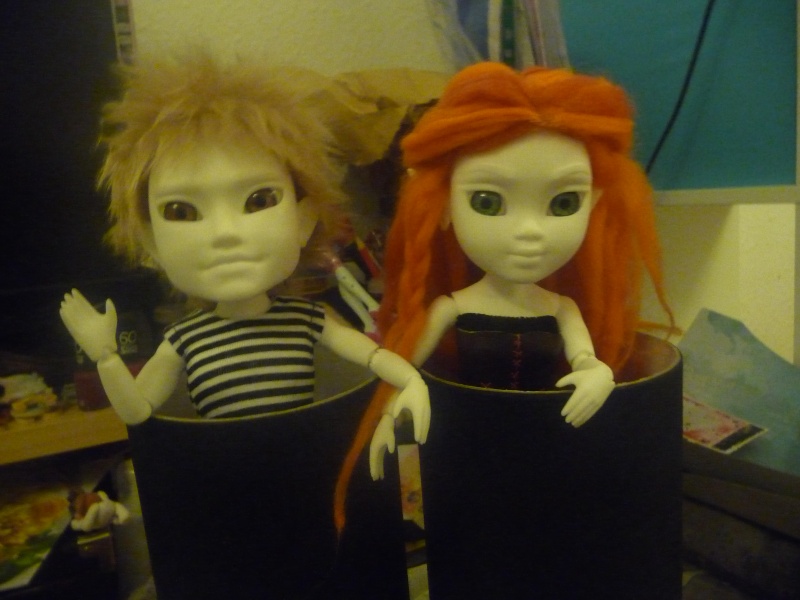 Here they are freshly arrived, Nhaj Vrax and Pseudonym.
Now, Pseu is going to be purple so I made her a bright orange wig to wear. I love the combo, so all i had to do was await the dye to arrive.
This time around I decided to try Idye Poly instead of Rit, for one it's easier to get in the UK and secondly it's actually designed for nylon so I figured might be a bit more predictable.
As it was, purple went about as expected. Dye packet went into simmering water, as did the colour enhancer, in went bits and out popped a purple Makie.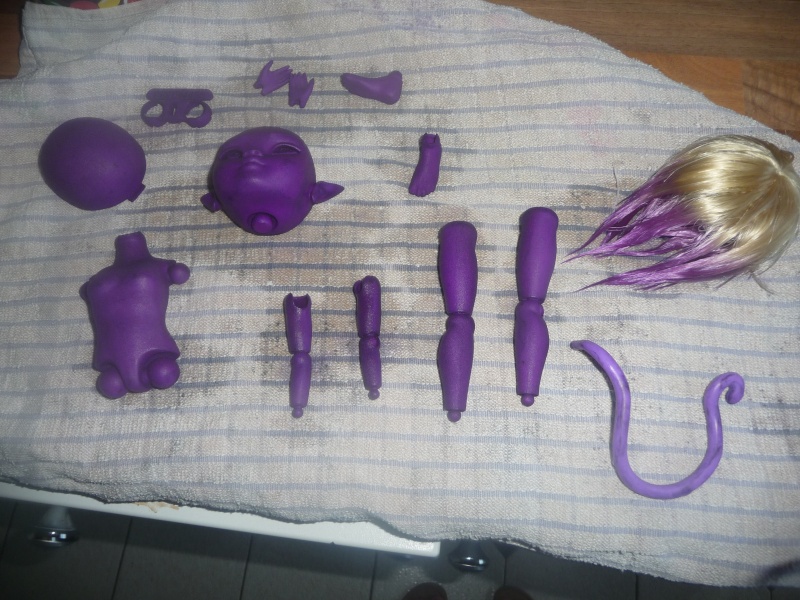 I also dip dyed a blonde wig for the hell of it, and threw in a Monster High tail I was going to use to see if the poly dye would take to the hard IM plastic. (Answer: yes it did, but it's patchy  in parts and had to be boiled for a good 15 minutes to get even half way as dark as the nylon which only took about 3 minutes to get a beautiful dark halloweeny purple)
So next up was Nhaj and the green dye.
I picked out Kelly Green because from my research online it looked like it would be the best "green" colour, not as dark as generic green but not as blue as teal.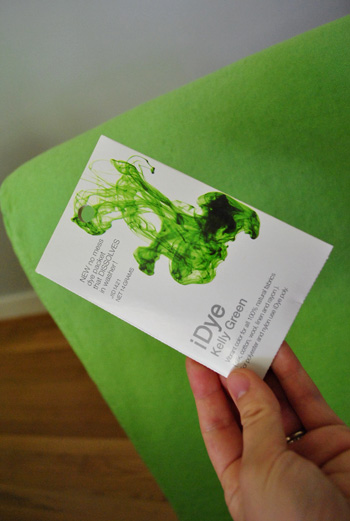 My hope was of course, for something like THIS photo above (not mine). An apple green, or even maybe a grassy green if you like. That is what Kelly Green is supposed to look like, right?
Certainly the packaging suggested a yellowish grassy colour, even though the dye pack inside looked very very dark. Wary of last time I boiled that dye SO much, I stirred the heck out of it. It looked suspiciously UN Kelly Green.
Still, I had gotten this far, no turning back now!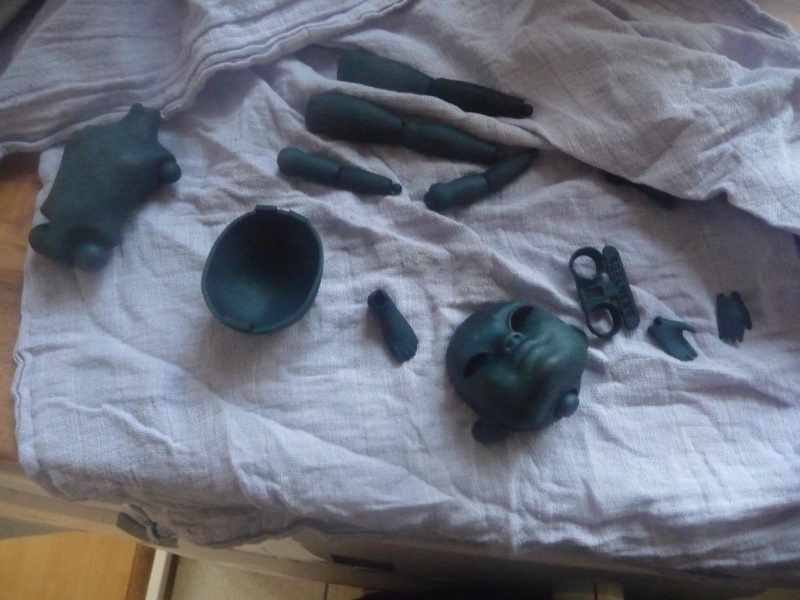 I didn't really expect this I have to admit.
When I first took the bits out they were a pretty, but too similar to Alias, shade of teal. Damnit I wanted GREEN! I'm getting green!
I shoved them back in.
well... they turned green. A very dark emerald green in fact. Not at all the grassy shade I was hoping for. *sigh*
There goes my hope of a lovely bright green doll then.
Ho hum.
Sometimes Makies decide to become things we weren't planning for right? Nhaj certainly didn't want to be apple green, but British Racing green he seems happy with.
This image is probably the best representation of their colour now they've dried.
She's a very dark purple, he's a super dark green with a hint of blue but certainly definitely GREEN (While Alias is much more a pretty peacock teal)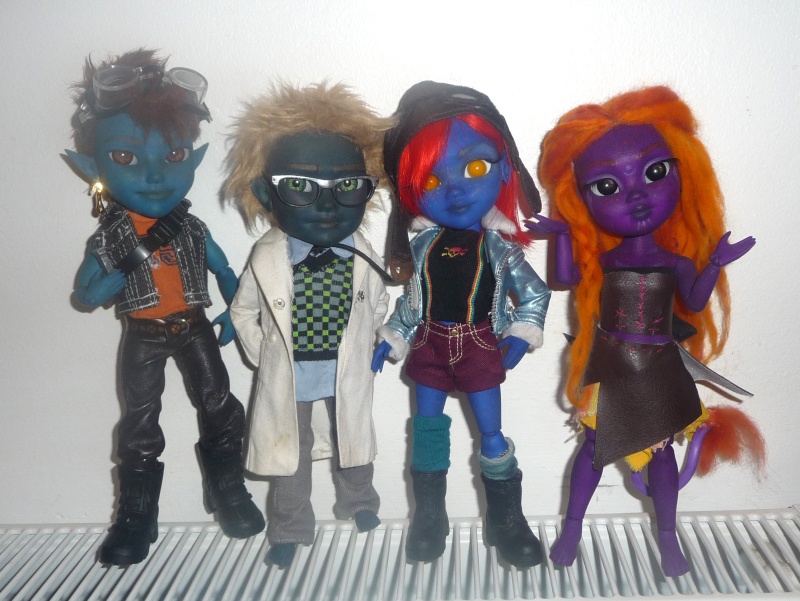 I'm delighted by the colour of Pseudonym, she's exactly the colour I envisioned. I'm a bit disappointed that Nhaj didn't want to be brightly coloured. I think I should have done more experiments but I had no parts to test and getting a hold of dye is a pain in the butt (it all has to come from online). Perhaps some yellow added would have helped, I really don't know, the green was SO dark i'm not convinced it wouldn't have just ended up a sort of brown swampy sludge instead.
Moral? Kelly Green never looks like the packaging.
Alias was dyed using Rit Kelly Green.
Nahj with Idye Poly Kelly Green.
Neither of them are bloody Kelly Green.
At least Nhaj is green though, it's just gonna take some getting used to this unexpectedly dark complexion of his. The colour he is though, really reminds me of NZ greenstone:
Which is kinda cool.
_________________
Hey, just your friendly neighbourhood admin.

Check out my Makies

In space, nobody can hear you explode.

Admin





Posts

: 1035


Join date

: 2015-02-04


Age

: 33


Location

: London



Even though he isn't what you had intended, Nhaj looks pretty cool. I can't believe that the plastic tail took up the purple dye so well either. That's really interesting.

And I love Pseudonym's wig! And the dip-dyed wig, too. I might want to try doing that.
Moderator





Posts

: 683


Join date

: 2015-02-05


Age

: 33


Location

: Chicago



I can well imagine your frustration over the green, as you say nothing like the colour represented and sooo much darker, but he does look great...and obviously his personality was such that he wanted to determine exactly what colour his 'skin' was going to be!

As for the purple I absolutely love it!
_________________
Without Challenge There is No Achievement
Moderator





Posts

: 325


Join date

: 2015-02-04



I know he's not what you hoped for, but he looks brilliant!

(I had the opposite issue trying to dye yarn - I was pouring in green and green and green and getting yellow. Pouring in blue and blue and blue on top, still yellow. Turned out that English blue food colouring is made of something different to American, and won't "take". But it took a 3 blog posts and an international posse of people going WTF? to figure it out.)
Member





Posts

: 128


Join date

: 2015-06-14


Age

: 32



So strange. I'm getting used to his new skin tone yeah, it really reminds me of greenstone in that he looks carved from the stuff, which is quite neat.
I shall have to continue to secretly lust after an apple green Makie and not have one *sob sob* but a jade green and an emerald green are very pretty colours (I love green hah)
_________________
Hey, just your friendly neighbourhood admin.

Check out my Makies

In space, nobody can hear you explode.

Admin





Posts

: 1035


Join date

: 2015-02-04


Age

: 33


Location

: London



Nhaj is a beautiful color. I'm sorry he didn't want to be apple green for you though.
Member





Posts

: 122


Join date

: 2015-06-27


Location

: Washington state, USA





Similar topics
---
Permissions in this forum:
You
cannot
reply to topics in this forum